Our friendly and knowledgeable team is here to assist you every step of the way. Meet our team and learn about their individual roles in providing exceptional dental care in Athens, Georgia, and service to our patients. We look forward to welcoming you to McRae Family Dental. If you have any questions or to schedule an appointment with our dentists, Dr. Matthew McRae Jr. and associates, call us today at 706-546-8480.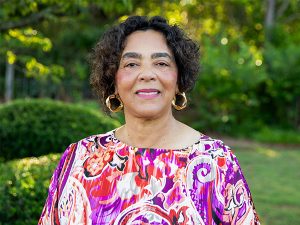 Barbara McRae
Chief Operating Officer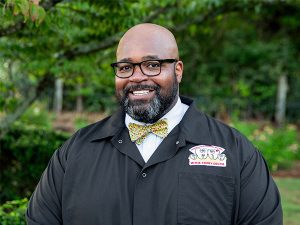 Matthew McRae III
Sr. Dental Administrator
Matthew officially began working for us in 2017 but began his dental career in 2008. He works to ensure that Dr. McRae's vision for his practice is fulfilled every day to serve our patients. His spare time is spent with family, watching movies, and fishing.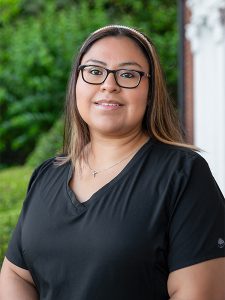 Arely
Front Desk (Trail Creek)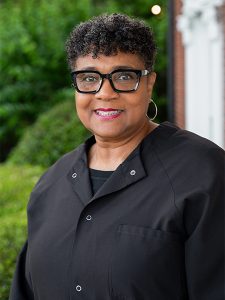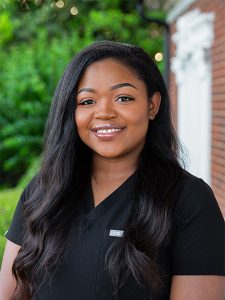 In November of 2022, we welcomed Daejah Denson as our front desk receptionist. In May of 2023, she achieved a significant milestone by graduating with a Bachelor Of Science In Biology from the University of Georgia, showcasing her dedication to learning and growth.
Daejah's favorite part of working at our practice is the distinct family dynamic it offers. The supportive and encouraging environment fosters a sense of camaraderie, where everyone celebrates each other's goals and ambitions. Patients also become part of this close-knit family, treating our staff with utmost respect.
Her contributions to our practice are truly invaluable. Daejah goes above and beyond to ensure our patients receive the utmost care. She takes the time to explain the importance of maintaining excellent oral health and discusses treatment options to ensure patients feel well-informed and comfortable.
Coming from a large and loving family with three sisters and one brother, Daejah finds strength and support in her loved ones. Her mother, Yvonne Denson, stands as her motivator, keeping her on track with her goals and dreams. Yvonne's unwavering support serves as a driving force as Daejah pursues her dream career of becoming a dentist.
Beyond her professional aspirations, Daejah has a passion for all things beauty. She enjoys experimenting with new haircare, makeup, and skincare products, indulging in the world of self-care. Additionally, she loves finding new candies and home decor, adding a touch of joy to her life outside of work.
Daejah also actively seeks ways to grow in her Christian faith, finding inspiration and guidance through her beliefs. As she embarks on her journey towards becoming a dentist, she values the opportunity to learn from Dr. Matthew McRae and his fellow dental associates, who consistently go the "extra mile" for patient care.
Daejah Denson's presence in our practice exudes passion, dedication, and a heartwarming spirit. We are delighted to have her as part of our dental family and are confident that her drive for excellence will continue to elevate the experiences of our patients and our team.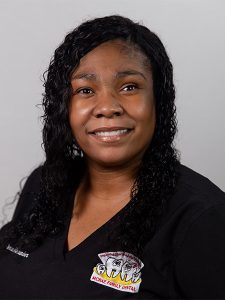 Shenna
Front Desk/Treatment Coordinator
Meet Shenna Alexander, our dedicated Treatment Plan Coordinator overseeing veteran affairs at our dental office. Since joining the practice in 2003 after graduating from Madison County High School in 2001, Shenna has been an invaluable asset to our team.
One of the aspects she loves most about the dental field is the abundance of opportunities for both financial and professional growth. Embracing these opportunities, she has become an essential part of our practice, contributing to its success with her compassionate and nurturing personality.
Shenna takes pride in working directly with patients, especially those who may be nervous or anxious. Her empathetic approach and caring demeanor help comfort and reassure patients throughout their treatment journey.
Beyond her professional life, Shenna finds joy in her family life. She has been happily married for 16 years, and together, they form a large blended family that keeps them busy and fulfilled.
When she's not at the practice, Shenna indulges in two of her favorite hobbies – gardening and attending her children's sporting events. Gardening allows her to immerse herself in the fresh air and sunshine, bringing her peace and contentment. Supporting her children at their sporting events brings her immense pride and joy.
Another aspect that Shenna loves about her role is working with veteran patients. She holds deep gratitude for their service and finds great satisfaction in thanking them for their dedication and sacrifice.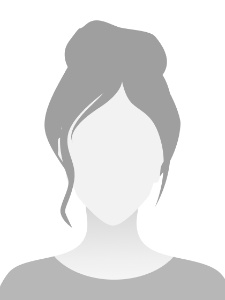 Joining our practice on June 6th, 2023, Silvia Heredia is the friendly and dedicated front desk receptionist who ensures every patient's visit begins with a warm and welcoming experience. A graduate of Cedar Shoals High School, Silvia brings essential skills and a strong work ethic to her role, making her a valued member of our team.
At our practice, Silvia feels a genuine sense of family among the staff, where everyone gets along harmoniously. This positive work environment resonates in her interactions with our patients, creating an inviting and comforting atmosphere.
Silvia's contribution to the success of our practice lies in her unwavering commitment to patient care. She takes pride in ensuring each patient is well taken care of, leaving with a smile on their face. Her genuine concern for our patients' well-being shines through, making them feel valued and cared for during their time with us.
Beyond her professional life, Silvia's happiness in joining our practice is echoed by her loving family. Their support adds to her dedication to providing exceptional service to our patients.
When Silvia isn't warmly welcoming patients at the front desk, she loves spending time outdoors, immersed in the beauty of nature.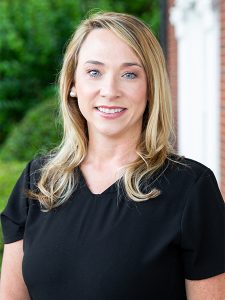 Miranda
Dental Hygienist (Baxter)
Miranda joined our team in 2017, but she has been improving smiles since 2000. Miranda stays on top of the latest in dentistry by regularly completing CE courses so that she can best help her patients. She enjoys going to Georgia games and spending time with her three kids, friends, and family.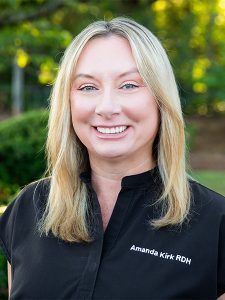 Amanda
Dental Hygienist (Baxter)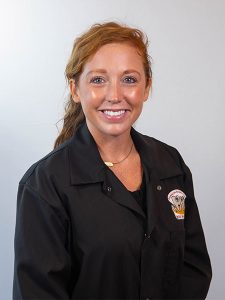 Lavelle
Dental Hygienist (Baxter)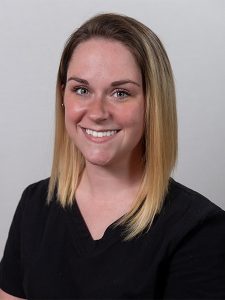 Christina
Dental Hygienist (Baxter)
Christina's dental career began in 2016, and she became a part of our team the following year. She has completed many CE courses which help her to improve the oral and overall health of her patients. In her free time, Christina enjoys spending time with her daughter and watching her grow.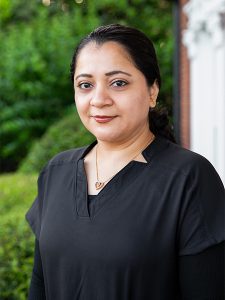 Atiya
Dental Hygienist (Epps Bridge)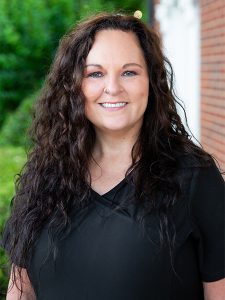 Stephanie
Dental Hygienist (Trail Creek)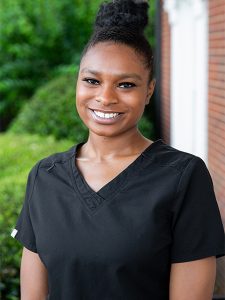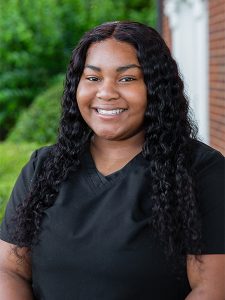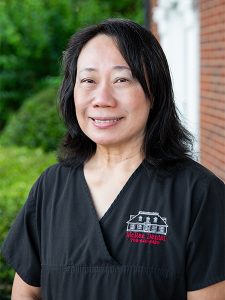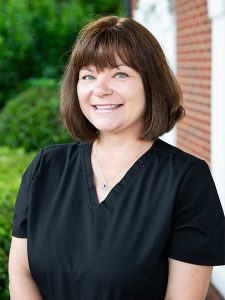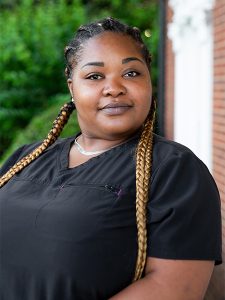 On January 5, 2023, Tiwanda Turman joined our practice as a Dental Assistant, bringing her expertise from graduating from the Accelerated Dental Assisting Academy. Embracing the opportunity to work in a flexible workplace, Tiwanda is dedicated to making meaningful contributions to our practice.
Tiwanda's role goes beyond technical skills; she takes pride in ensuring each and every patient feels comfortable and well-informed about their diagnosis and treatment plan. Her compassionate approach helps alleviate any anxieties, making the dental experience more pleasant for our valued patients.
Beyond her professional life, Tiwanda finds joy in creative pursuits. Outside of the practice, she indulges in her passion for painting and embroidering. These artistic outlets allow her to express herself and find solace in the beauty of creation.
Family holds a special place in Tiwanda's heart. She cherishes her parents, Camilla and Jerry, along with her sister and 11-year-old daughter. Their love and support are the driving forces behind her determination to excel both personally and professionally.
Embracing life with faith as her guide, Tiwanda chooses to walk by faith, not by sight. Her strong belief in the power of faith shapes her approach to both her career and personal life.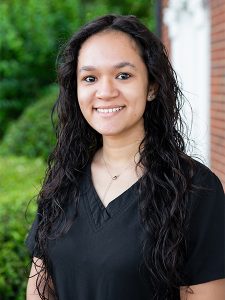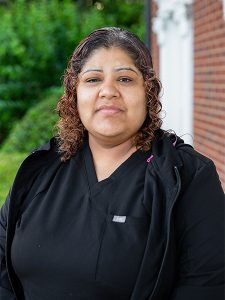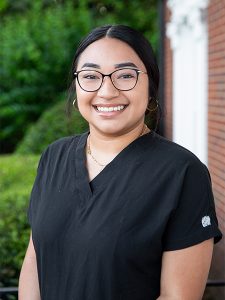 Milvia began her dental career when she joined our team in 2019. She likes that she learns new things every day from both her coworkers and her patients. In her spare time, Milvia enjoys cooking and baking for her family and playing with her animals.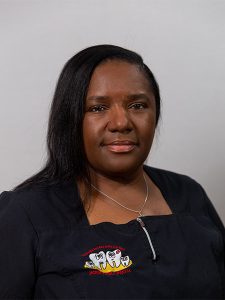 Cleo
Dental Hygiene Assistant
Cleo is a dental hygiene assistant with an impressive 31-year experience in the industry, showcasing her deep understanding of dentistry and unwavering dedication to her profession. In 2014, she furthered her education and earned a bachelor's degree in psychology from the esteemed University of Piedmont.
At McRea Family Dental, Cleo finds immense joy in being part of a supportive and dedicated team of professionals. The collaborative and continuous learning environment fosters professional growth and ensures the best care for our patients.
Cleo's contributions to our practice are truly exceptional. She provides top-notch care, ensuring that each patient has a comfortable and pleasant experience during their visits. Her commitment to excellence shines through in every aspect of her work.
Originally from Maryland, Cleo has embraced life in Georgia. She is a proud mother of a successful son who graduated from college with a degree in marketing and management.
Beyond her professional achievements, Cleo's hobbies enrich her life. She finds delight in playing tennis, exploring new places through traveling, diving into the world of books through reading, and creating sweet treats through baking.
Cleo's presence in our practice brings a wealth of experience, dedication, and a warm demeanor. We are grateful to have her as part of our dental family and are confident that her passion for providing exceptional care will continue to elevate the experiences of our patients and our team.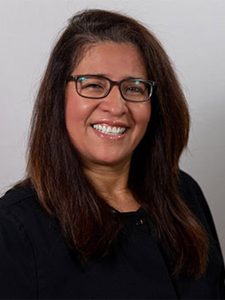 Carly joined our team in 2018 but has worked in dentistry since 1996. She loves the dental field and received her dental education in Honduras. In her spare time, Carly enjoys helping others, baking, backyard work, and hiking.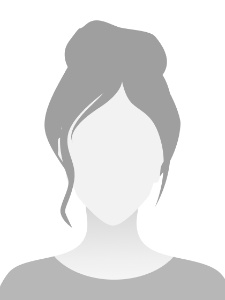 Meet Briana Smith, our dedicated Dental Assistant who became a valued member of our practice in August of 2021. Briana attended the Accelerated Dental Assisting Academy dental assistant class offered at McRae McRea family dental, equipping her with the skills and expertise to excel in her role.
At our practice, Briana finds joy in the friendly and family-oriented environment. This positive atmosphere fosters better patient care and team collaboration, making every day at work a rewarding experience.
Briana's contributions to the practice extend beyond her technical abilities. Her positive and calming energy brings comfort to both patients and staff, creating a soothing environment for all.
Outside of the practice, Briana embraces her passions and interests. She enjoys the art of hairstyling, finding creativity in transforming hair into beautiful styles. Additionally, she loves shopping and cherishes quality time spent with her supportive family.
We are delighted to have Briana as part of our dental family, and we are confident that her positivity and compassion will continue to make a positive impact on the lives of our patients and team members.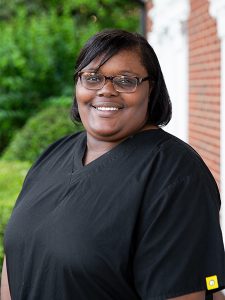 Wykisha
Insurance Coordinator
On March 14th, 2023, we joyfully welcomed Wykisha Moss to our team as the Insurance Coordinator at Mcrea Family Dental. Her passion for her role and dedication to the practice have quickly made her an invaluable addition to our close-knit team.
What Wykisha appreciates most about working at Mcrea Family Dental is the genuine sense of family that extends beyond the workplace. The team's camaraderie creates a supportive and welcoming environment for everyone, fostering a positive work atmosphere.
As an Insurance Coordinator, Wykisha's responsibilities are vital to the smooth functioning of our practice. She ensures that insurance matters are handled correctly and efficiently, leaving our patients with peace of mind regarding their coverage.
Outside of work, Wykisha finds her greatest joy in her two children, La'bryant and La'bria Moss, a boy and a girl respectively. Her children hold a special place in her heart, and she cherishes every moment spent with them.
In her free time, Wykisha loves to have fun and create lasting memories with her children. Whether they're enjoying outdoor adventures, exploring new places, or simply spending quality time together, these cherished moments bring happiness and fulfillment to her life.
Additionally, Wykisha finds strength and comfort in her faith. Her favorite Bible verse, "The LORD is my rock and my fortress and my deliverer, my God, my rock, in whom I take refuge, my shield, and the horn of my salvation, my stronghold," reflects the profound trust she places in her beliefs.
Wykisha Moss's presence in our practice embodies dedication, compassion, and a strong sense of family. We are honored to have her as part of our dental family and are confident that her positive impact will continue to enhance the experiences of our patients and team members alike.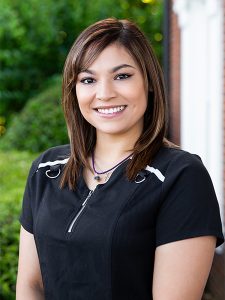 Blanca
Insurance Coordinator
Meet Blanca Delgado, our skilled Insurance Coordinator, who became a valuable member of our practice in October 2020.
Blanca cherishes the team-oriented atmosphere that our practice provides. Working collaboratively with our staff, she plays a pivotal role in streamlining the insurance process, providing a seamless experience for our patients.
Beyond her professional commitments, Blanca loves to embrace the great outdoors during her free time. She finds joy and rejuvenation in various outdoor activities such as hiking, swimming, kayaking, running, and rock climbing. Blanca's adventurous spirit and love for nature perfectly complement her role as our Insurance Coordinator.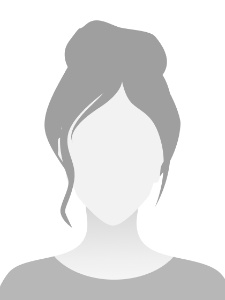 Ajayisa
Insurance Coordinator
In August 2022, we welcomed Ajayisa Burgess as one of our dedicated Insurance Coordinators. Embracing her role with enthusiasm, Ajayisa has quickly become an essential part of our team.
One aspect that Ajayisa truly cherishes about working at our practice is the strong sense of teamwork among the staff. The collaborative and supportive environment fosters a positive and efficient work atmosphere. Ajayisa's contributions to our practice extend beyond her primary responsibilities. She ensures that insurance matters are handled promptly and efficiently, alleviating any stress for our patients. Additionally, she readily offers her assistance to others whenever needed, exemplifying the spirit of teamwork.
Outside of the office, Ajayisa's world revolves around her two-year-old daughter, who brings immense joy and fulfillment to her life. As a devoted mother, she finds happiness in every moment spent with her little one.
In her leisure time, Ajayisa nurtures her passion for writing. Whether it's journaling her thoughts or crafting captivating stories, writing serves as a creative outlet that enriches her life.
We are grateful to have Ajayisa as part of our dental family and are confident that her positive impact will continue to enhance the experiences of our patients and our team.